Papers, conferencias y premios destacados del IMFD a diciembre de 2019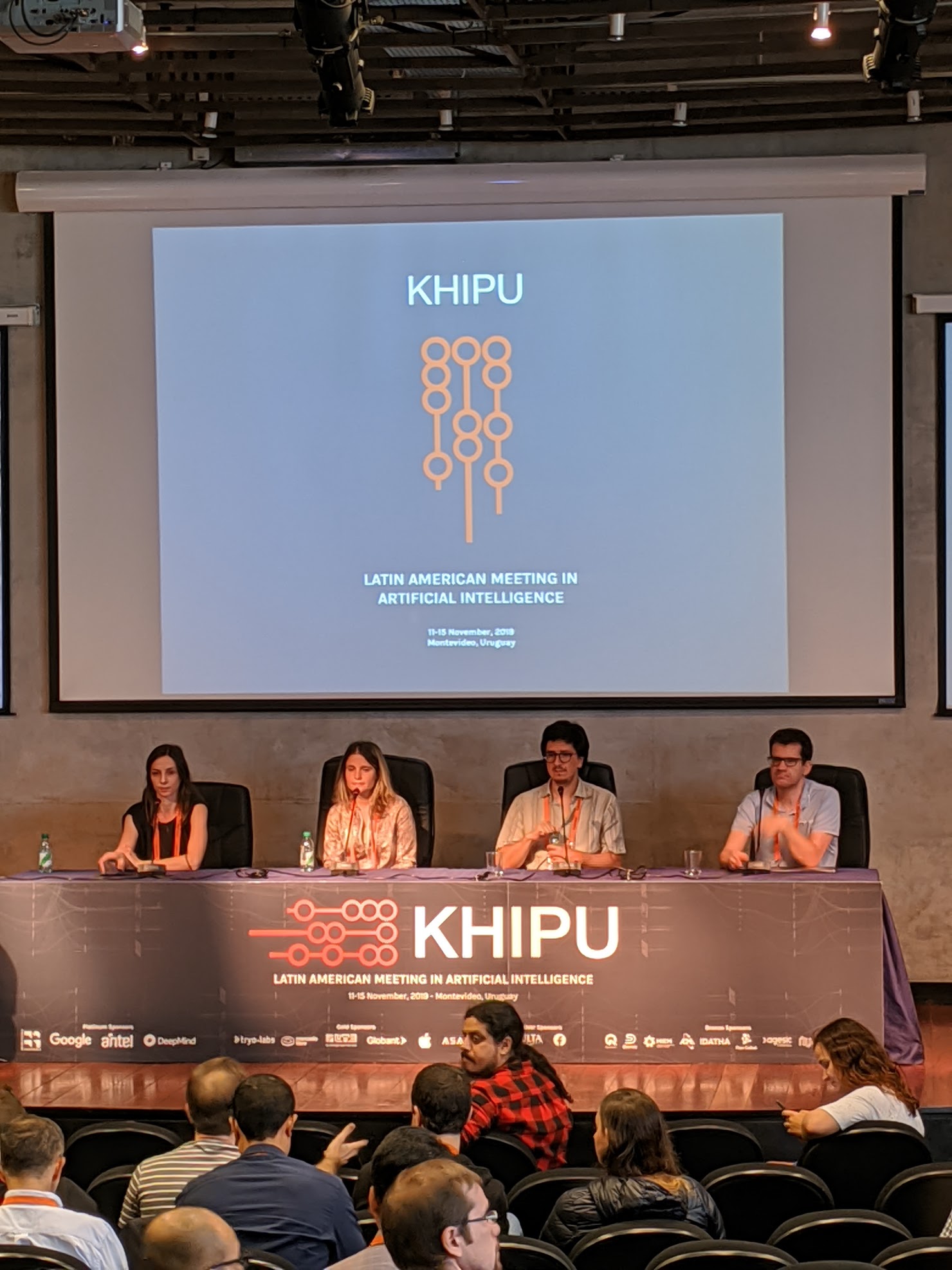 Noticias falsas, ciberacoso, sistemas de recomendación y teoría de bases de datos son algunos de los temas que han abordado los investigadores del Instituto Milenio Fundamentos de los Datos (IMFD), en sus papers y trabajos destacados.
Aquí, un resumen de esos trabajos, y también de los premios y charlas más relevantes, a diciembre de este año:
I. Premios y distinciones.
Premios de Investigación de Google para América Latina: Bárbara Poblete y Gonzalo Navarro, ambos académicos del Departamento de Ciencias de la Computación (DCC) de la Universidad de Chile, e investigadores del IMFD, obtuvieron -en noviembre de 2019- premios de Investigación de Google para América Latina (Latin American Research Awards, LARA), para desarrollar sus investigaciones.
En el caso de Gonzalo Navarro, el proyecto premiado investiga la forma de almacenar y extraer información eficientemente de grandes colecciones repetitivas, como documentos versionados (Wikipedia), software versionado (GitHub), publicaciones periódicas (reportes financieros, por ejemplo) o publicaciones indexadas por tiempo (noticias, tweets).
El proyecto que lidera Bárbara Poblete busca hacer un modelo que integre datos que tienen dimensiones espaciales, temporales y textuales. La idea es poder estudiar patrones que sólo aparecen al combinar estos aspectos.
PE5. Exposing the president: the political angle of a natural disaster in Chile: el paper de Magdaleña Saldaña fue elegido ganador del International Symposium on Online Journalism (ISOJ) 2019, en un encuentro que se realizó en abril, en la Universidad de Texas, Austin, Estados Unidos. Su tema de investigación se originó a partir de su tesis doctoral, que revisa, durante 30 días, la cobertura que dieron tres medios nacionales -Emol, La Tercera y La Nación-, al terremoto de Iquique, en 2014.
http://isoj.org/research/exposing-the-president-the-political-angle-of-a-natural-disaster-in-chile/
PE3. Efficient Logspace Classes for Enumeration, Counting, and Uniform Generation: recibió el premio al mejor artículo (Best Paper Award) en ACM PODS 2019, la conferencia más prestigiosa de teoría de bases de datos a nivel mundial.
https://dl.acm.org/citation.cfm?doid=3294052.3319704
Autores: Marcelo Arenas, Luis Alberto Croqueviell, Rajesh Jayaram y Cristian Riveros.
Charla de Leopoldo Bertossi en Gems of PODS 2019: el investigador Leopoldo Bertossi fue invitado en reconocimiento por el trabajo que ha realizado en el área de Consistent Query Answering, en bases de datos. Su charla se realizó en Amsterdam, Holanda, en junio de 2019, y el paper asociado se encuentra en: https://dl.acm.org/citation.cfm?doid=3294052.3322190
(Bertossi, L. "Database Repairs and Consistent Query Answering: Origins and Further Developments". Gems of PODS paper. In Proc. PODS 2019).
Premio Outstanding Master Thesis Award:
En la cuarta edición del VCLA International Student Awards del Vienna Center for Logic and Algorithms, Martín Muñoz, alumno del IMFD, recibió este premio por sus tesis de magíster "Descriptive Complexity for Counting Complexity Classes", co-dirigida por Cristian Riveros y Marcelo Arenas.
http://www.vcla.at/vcla-awards/
Destacada participación de investigadores del IMFD en Khipu, el evento de inteligencia artificial más importante en Latinoamérica:
Jorge Pérez y Álvaro Soto, investigadores del IMFD y académicos de Computación de la Universidad de Chile y de la Universidad Católica, respectivamente, fueron parte de los invitados al encuentro que se realizó en Montevideo, Uruguay, entre el 11 y el 15 de noviembre de 2019. A este asistieron los alumnos del DCC de la U. de Chile Mauricio Quezada, Camilo Garrido, Juglar Díaz, Sebastián Donoso y  José Cañete, quienes son parte del IMFD; Fernanda Weiss y Ignacio Espinoza, estudiantes de magíster en Informática de la Universidad Federico Santa María, ambos del IMFD; y Vladimir Araujo y Felipe del Río, del DCC U. Católica e IMFD; además de Francisca Cattan, Alain Raymond y Francisco Renconret, de este último departamento.
Pérez dictó la conferencia "More on Transformers: BERT and Friends", sobre procesamiento de lenguaje natural.
Álvaro Soto realizó dos conferencias: una acerca de su grupo de investigación de IA en la U. Católica, IA Lab, y otra más técnica llamada "Beyond Memory, Coaching Our Visual Learning Models".
II. Artículos destacados.
PE3. Validating shacl constraints over a sparql endpoint: este trabajo obtuvo el premio Best Paper Award en la conferencia más importante sobre la web semántica, la ISWC, International Semantic Web Conference, que se desarrolló a fines de octubre de 2019, en Auckland, Nueva Zelanda.
http://jreutter.sitios.ing.uc.cl/SHACL_19.pdf
Autores: Juan Reutter junto a los investigadores Julien Corman, Fernando Florenzano -alumno magíster del IMFD- y Ognjen Savkovic.
PE2. A Visual SPARQL Query Builder: el alumno Hernán Vargas, de la Universidad Federico Santa María -de Valparaíso-, ganó el premio Best Student Paper en la ISWC, la International Semantic Web Conference, a fines de octubre de 2019. El trabajo corresponde a la tesis de magíster de Vargas y consiste en la elaboración de un navegador para explorar grafos semánticos.
http://aidanhogan.com/docs/rdf_explorer_sparql_interface.pdf
Autores: Hernán Vargas en coautoría con los profesores Carlos Buil (Universidad Federico Santa María/IMFD), Aidan Hogan (Universidad de Chile/IMFD) y Claudia López (Universidad Federico Santa María).
PE5. The Paradox of Participation Versus Misinformation: Social Media, Political Engagement, and the Spread of Misinformation: se trata, probablemente, del primer estudio empírico de opinión pública sobre noticias falsas en Chile. La investigación fue publicada en Digital Journalism, una de las revistas científicas con mayor impacto en periodismo digital. El estudio perfila quiénes y cómo difunden noticias falsas en el país, entre otros temas relacionados a la desinformación.
https://www.tandfonline.com/doi/full/10.1080/21670811.2019.1623701
Autores: Sebastián Valenzuela junto a Daniel Halpern, James E. Katz y Juan Pablo Miranda.
PE3. When is Ontology-Mediated Querying Efficient?: presentado en ACM-IEEE LICS, una de las conferencias más prestigiosas en teoría de computación, el artículo presenta una caracterización completa de cuando es posible resolver eficientemente el problema de una clase de consultas muy importante en la práctica en la presencia de ontologías.
Autores: Pablo Barceló, Cristina Feier, Carsten Lutz, Andreas Pieris.
PE4. Learning to detect online harassment on Twitter with the transformer: en septiembre de 2019, en la competencia Social-media-harassment-first-competition, de la European Conference on Machine Learning (ECML-PKDD), en Würzburg, Alemania, la arquitectura propuesta en este paper obtuvo el primer lugar en el desafío de detección de ciberacoso en redes sociales.
(Link no disponible aún).
Autores: Margarita Bugueño y Marcelo Mendoza.
Nowcasting earthquake damages with Twitter: 
Publicado en EPJ Data Science -en marzo de 2019- se introduce un método de estimación de intensidad de sismos en la escala de daños de Mercalli, el cual usa sólo datos de redes sociales durante el proceso de inferencia. El método proporciona una estimación espacial de los daños, considerando granularidad hasta el nivel de comunas.
https://bit.ly/2IULZRt
Autores: Marcelo Mendoza, Bárbara Poblete e Ignacio Valderrama.
PE4. The effect of explanations and algorithmic accuracy on visual recommender systems of artistic images: este trabajo fue candidato a Best Paper en conferencia ACM IUI (International Conference on Intelligent User Interfaces) en Los Ángeles, Estados Unidos, en marzo de 2019.
https://dl.acm.org/citation.cfm?id=3302274
PE5. AffectiveTweets: a Weka Package for Analyzing Affect in Tweets: este paper fue publicado por el investigador Felipe Bravo, en el Journal of Machine Learning Research, la revista más importante en el área de Machine Learning.
PE5. WekaDeepLearning4j: A deep learning package for Weka based on Deeplearning4: este artículo, del mismo autor, apareció en la revista Knowledege-Based System.
Ambas publicaciones describen proyectos de código abierto que extienden Weka, una herramienta libre para hacer minería de datos y aprendizaje de máquinas. Weka puede utilizarse mediante una interfaz gráfica, lo que le permite a los usuarios trabajar con datos sin necesidad de saber programar.
A través de AffectiveTweets (https://affectivetweets.cms.waikato.ac.nz/), se pueden realizar análisis de sentimiento y emociones en redes sociales como Twitter.
Con WekaDeepLearning4j (https://affectivetweets.cms.waikato.ac.nz/) es posible implementar algoritmos de aprendizaje profundo (deep learning).
PE5. Hate-speech detection is not as easy as you may think: a closer look at model validation: de los investigadores Bárbara Poblete y Jorge Pérez, junto a su alumna Aymé Arango. Este fue publicado en la conferencia de mayor impacto internacional en temas de recuperación de información en la web.
PE1. Libro How Party Activism Survives: Uruguay's Frente Amplio: el investigador Fernando Rosenblatt es el autor de este libro  publicado en octubre de 2019 en Cambridge University Press, en coautoría con Verónica Pérez Bentancur y Rafael Piñeiro Rodríguez. Este analiza cómo los partidos políticos con activistas están en declive debido a varios choques externos. La publicación contribuye a esta literatura analizando el caso único del Frente Amplio (FA) uruguayo, el único partido izquierdista institucionalizado de masas en América Latina. Utilizando descripciones detalladas, rastreo de procesos sistemáticos e investigación de encuestas, este estudio de caso resalta el valor de un enfoque centrado en la organización para comprender el papel de los partidos en la democracia. Dentro del Frente Amplio, las reglas de la organización otorgan a los activistas una voz significativa, lo que les da un fuerte sentido de eficacia.
Jorge Pérez y Álvaro Soto, investigadores del IMFD y académicos de Computación de la U. de Chile y la U. Católica, respectivamente, fueron parte de los invitados a Khipu, el evento de IA más importante en Latinoamérica.
More news
Annual
2020
2019
2018
2017
2016
2015
Biannual
1st semester
2nd semester
Monthly
January
February
March
April
May
June
July
August
September
October
November
December