SEMANTICS 2023: 19th International Conference on Semantic Systems
21/Sep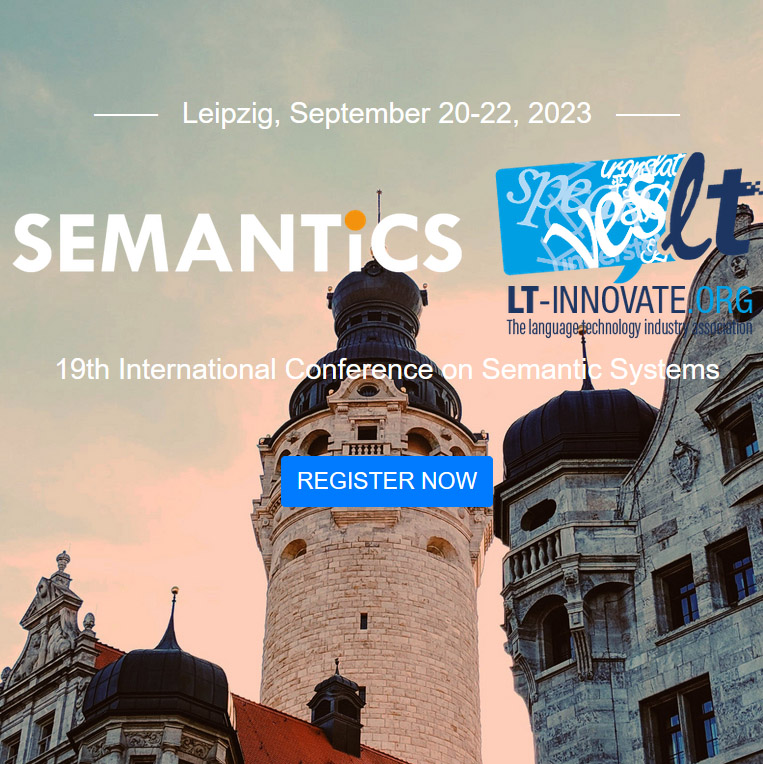 International representatives from business and research organisations will gather this September, in Leipzig (Germany) for the 19th edition of SEMANTiCS and Language Intelligence 2023 conference, to exchange ideas on data and information management, artificial intelligence, and
digital transformation. Don't miss out on this exceptional opportunity to be part of SEMANTiCS / Language Intelligence 2023, where the worlds of Knowledge Graphs, Multilingual Artificial Intelligence, and semantic technologies converge.
At SEMANTiCS researchers, industry experts and business leaders can develop a thorough understanding of trends and application scenarios in the fields of Machine Learning, Data Science, Linked Data and Natural Language Processing. Indeed, this edition will focus on the use of
knowledge graphs and artificial intelligence in semantic technologies. SEMANTiCS is organised in conjunction with LANGUAGE INTELLIGENCE 2023, which will showcase the latest developments in Multilingual Artificial Intelligence: speech interaction, deep meaning processing and multilingual communication and cognition. Both conferences will take place from September 20-22, 2023, at the Hyperion Hotel in Leipzig (Germany).
SEMANTiCS has a longstanding reputation for bridging the gap between academic research and practical industry applications, creating an environment where ideas flourish, and knowledge is shared. By changing venues between Germany, Austria, and the Netherlands, SEMANTiCS ensures the Semantic Web community across Europe can unite, collaborate, and shape the future of semantic technologies. Besides, the organising committee comprises a diverse pool of members from different countries: Germany, the USA, Italy, Spain, the UK, Austria, and the Netherlands. In an exciting collaboration, SEMANTiCS has integrated the program of the Language Intelligence 2023 conference, enriching the event with the presence of leading experts in the field of language intelligence. This convergence is crucial to foster an interdisciplinary environment, facilitating the exchange of ideas and knowledge across diverse domains.
SEMANTiCS / Language Intelligence 2023 invites professionals, researchers, and enthusiasts from around the world to gather in Leipzig (Germany). This esteemed event offers a unique opportunity to engage with international experts in artificial intelligence, data and information management, and foundation models. We are happy to bring domain experts to Leipzig (Germany) from all over the world.
KEYNOTES
Xin Luna Dong, Head Scientist at Meta Reality Lab, USA with a talk entitled: Generations of Knowledge Graphs: The Crazy Ideas and The
Business
Aidan Hogan, Associate Professor at the Department of Computer Science, University of Chile with a talk entitled: Knowledge Graphs in the Age of Large Language Models
Marco Varone, CTO & Co-Founder, expert.ai, Italy with a talk entitled: From Part-of-speech to AI: A 30 Years' Journey in the World of
Language Understanding
Edward Curry, Professor of Data Science and Director of the Insight SFI Research Centre for Data Analytics at the University of Galway
WHEN AND WHERE
Date: September 20-22, 2023
Website: https://2023-eu.semantics.cc/
Registration: https://2023-eu.semantics.cc/page/registration
Place: HYPERION Hotel Leipzig, Sachsenseite 7, 04103 Leipzig, Germany
Program: Sep 20: DBpedia Day, Workshops & Tutorial | Sep 21-22: Main Conference Days
Contact: Julia Holze (holze@infai.org) & Angelo Salatino (angelo.salatino@open.ac.uk)