Charla Inteligencia Artificial Responsable, con Ricardo Baeza-Yates
02/Aug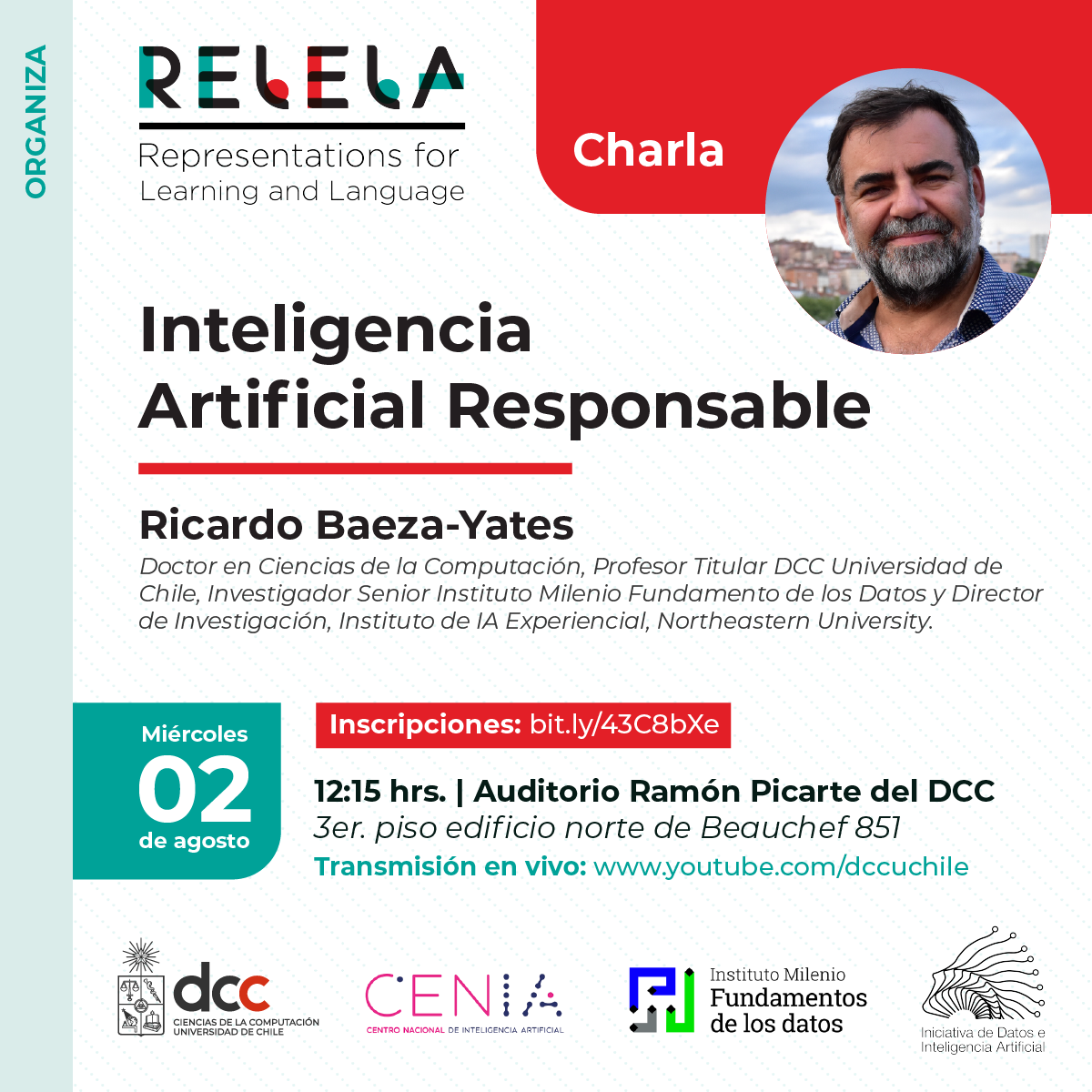 Les invitamos a la charla "Inteligencia Artificial Responsable", que impartirá Ricardo Baeza-Yates, académico del Institute for Experiential AI en Northeastern University, EEUU, profesor titular del Depto de Computación de la U. de Chile e investigador sénior del Instituto Milenio Fundamentos de los Datos. Esta charla forma parte del ciclo RELELA, Representations for Learning and Language.
CUÁNDO: Miércoles 02 de agosto de 2023, a las 12:15 (coffee de bienvenida)
DÓNDE: Auditorio deL Depto. de Cs. de la Computación, U. de Chile (Beauchef 851, Edificio Norte, piso 3, Santiago, Chile)
ORGANIZA: Departamento de Ciencias de la Computación, U. de Chile
INSCRIPCIONES: bit.ly/43C8bXe
RESUMEN:
En la primera parte, para preparar el escenario, abordaremos la IA irresponsable: (1) discriminación (por ejemplo, reconocimiento facial, justicia); (2) frenología (por ej., predicciones basadas en biometría); (3) limitaciones (por ej., falta de competencia humana, minimal adversarial AI) y (4) uso indiscriminado de recursos informáticos (p. ej., grandes modelos de lenguaje). Estos ejemplos tienen un sesgo personal, pero establecen el contexto para la segunda parte, donde abordaremos tres desafíos: (1) principios y gobernanza, (2) regulación y (3) nuestros sesgos cognitivos. Terminaremos conversando nuestras iniciativas de IA responsable y lo que se viene en el futuro cercano.
ABSTRACT:
In the first part, to set the stage, we cover irresponsible AI: (1) discrimination (e.g., facial recognition, justice); (2) phrenology (e.g., biometric based predictions); (3) limitations (e.g., human incompetence, minimal adversarial AI) and (4) indiscriminate use of computing resources (e.g., large language models). These examples do have a personal bias but set the context for the second part where we address three challenges: (1) principles & governance, (2) regulation and (3) our cognitive biases. We finish discussing our responsible AI initiatives and the near future.
Short bio:BIO:
Ricardo Baeza-Yates is Director of Research at the Institute for Experiential AI of Northeastern University. Before, he was VP of Research at Yahoo Labs, based in Barcelona, Spain, and later in Sunnyvale, California, from 2006 to 2016. He is co-author of the best-seller Modern Information Retrieval textbook published by Addison-Wesley in 1999 and 2011 (2nd ed), that won the ASIST 2012 Book of the Year award. From 2002 to 2004 he was elected to the Board of Governors of the IEEE Computer Society and between 2012 and 2016 was elected for the ACM Council. In 2009 he was named ACM Fellow and in 2011 IEEE Fellow, among other awards and distinctions. He obtained a Ph.D. in CS from the University of Waterloo, Canada, in 1989, and his areas of expertise are web search and data mining, information retrieval, bias on AI, data science and algorithms in general.