¿Cómo se ve la propuesta de la nueva Constitución en Chile?
13/Jul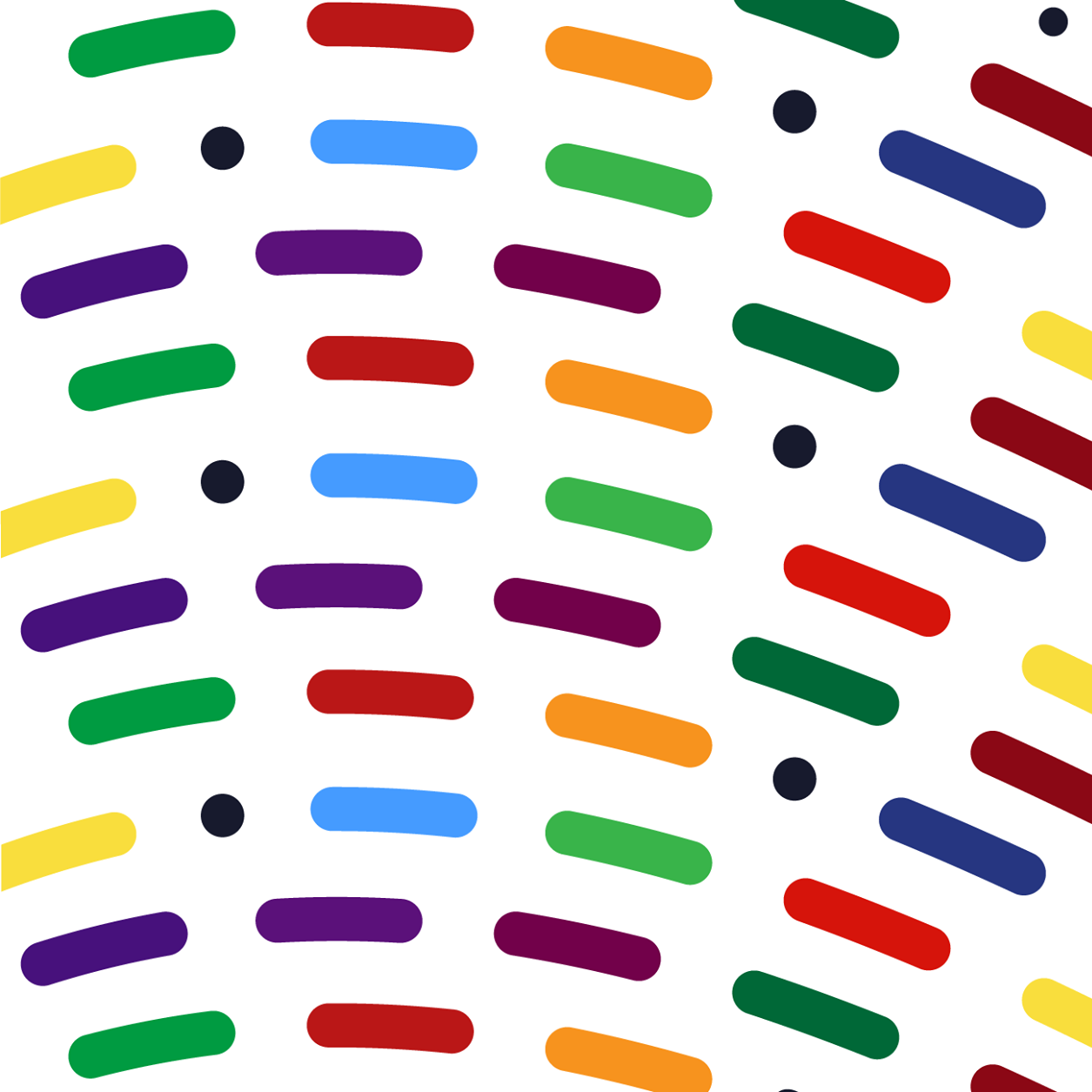 ABSTRACT
Chileans will soon vote in a plebiscite to approve or reject a new draft Constitution. We contribute to the debate by presenting different perspectives from academic experts, both Chilean and international, on the strengths and weaknesses of the new legal framework represented in the draft of the new Constitution.
This event is part of the Academic Forum for the New Constitution in Chile. It will be held in English and Spanish with simultaneous translation. To register, click here.
PRESENTERS
Introduction: Steven Levitsky, Director, David Rockefeller Center for Latin American Studies; Professor of Government, Harvard University
International Panelists: Roberto Gargarella, Professor of Constitutional Theory and Political Philosophy, Torcuato Di Tella University and Professor Constitutional Law, University of Buenos Aires; David Landau, Dean for International Programs, and Mason Ladd Professor of Law and Associate, Florida State University
National Panelists: Miriam Henríquez, Dean of the Faculty of Law and Associate Professor of Political and Constitutional Theory and Constitutional Law, Alberto Hurtado University; Alejandra Ovalle, Professor, Department of Public Law and Director of the UC Constitutional Forum, Catholic University
Moderated by: Juan Pablo Luna, Professor School of Government and the Institute of Political Science, Catholic University, Researcher Instituto Milenio de los Datos, and DRCLAS Luksic Scholar
Bios
Steven Levitsky, Director of the David Rockefeller Center for Latin American Studies, and Professor of Government at Harvard University. His research focuses on democratization, authoritarianism, political parties, and weak and informal institutions. He is the author (with Daniel Ziblatt) of How Democracies Die (Crown, 2018), a New York Times Best-Seller that has been published in 25 languages, Competitive Authoritarianism: Hybrid Regimes after the Cold War (with Lucan Way) (Cambridge, 2010), and Transforming Labor-Based Parties in Latin America: Argentine Peronism in Comparative Perspective (Cambridge, 2003), and co-editor of Informal Institutions and Democracy in Latin America (with Gretchen Helmke) and The Resurgence of the Latin American Left (with Kenneth Roberts). He has written frequently for the New York Times, Foreign Affairs, Vox, The New Republic, The Monkey Cage, La República (Peru), and Folha de São Paulo (Brazil). He is currently writing a book (with Lucan Way) on the durability of revolutionary regimes. Levitsky received his PhD from the University of California, Berkeley.
Roberto Gargarella is Professor of Constitutional Theory and Political Philosophy at the Universidad Torcuato Di Tella and Professor of Constitutional Law at the Universidad de Buenos Aires. He has been a visiting professor or researcher at the universities of Bergen and Oslo (Norway), Pompeu Fabra (Spain), New York, Columbia, and Harvard. He has received John Simon Guggenheim Fellowships (1999) and Harry Frank Guggenheim Fellowships (2002). To date he has published 27 books on constitutional theory and political philosophy. He is a lawyer and sociologist from the University of Buenos Aires and holds a PhD in Law from the same university and the University of Chicago (USA), with post-doctoral studies at Balliol College, Oxford University (UK).
David Landau has been awarded a Fulbright specialist grant in Chile for 2022 during that country's ongoing constitution-making process. His recent work has focused on a range of issues with contemporary salience both in the United States and elsewhere around the world, including constitutional change and constitution-making, judicial role and the enforcement of rights, impeachment, and the erosion of democracy. In 2011, he served as a consultant on constitutional issues for Honduras's Truth and Reconciliation Commission. Since 2012, he has been a founding editor of ICONnect, the International Journal of Constitutional Law blog, and serves on the Scientific-Advisory board of the same journal. He has published several other books and edited volumes with Oxford University Press and Edward Elgar Press. David Landau has a PhD in Political Science, as well as a JD and AB from Harvard University.
Miriam Henríquez, is Dean of the Faculty of Law and Professor of Political and Constitutional Theory and Constitutional Law at Universidad Alberto Hurtado. She is also a professor of the "Constitutional Supremacy and Sources of Law" seminar in the Master in Law program at the Universidad de Chile and she teaches the "Normative Conflict Resolution" course in the LLM in Law at the Pontificia Universidad Católica de Chile. She is Coordinator of the Law Committee of the Advanced Human Capital Formation Program of the National Commission of Science and Technology – Conicyt. Since 2020 she has been a member of the new Gender Advisory Council for the National System of Science, Technology, Knowledge and Innovation. To date she is an author and contributor of 13 books (manuals, monographs, collective works) on Constitutional Law and Human Rights. Doctor in Juridical Sciences from the University of Santiago de Compostela. Postdoctoral studies at the University of Santiago de Compostela. Master in Public Law, Pontificia Universidad Católica de Chile. Lawyer, Universidad Nacional del Comahue.
Alejandra Ovalle is Associate Professor of the Department of Public Law, and Director of the Constitutional Forum at Pontificia Universidad Católica de Chile. She currently teaches three courses: Political Law, Institutions of the Chilean Rule of Law and Fundamental Rights and Human Rights. She holds a Master's degree in Public Law with a specialization in Constitutional Law from Pontificia Universidad Católica de Chile.
Juan Pablo Luna holds a doctorate in Political Science from the University of North Carolina at Chapel Hill, United States and has been a visiting professor at the universities of Columbia (2018), Brown (2016), Harvard (2013), Sciences-Po (2013 and 2019), Princeton (2008) and he was a DRCLAS Luksic Visiting Scholar in 2013. He is a regular columnist for CIPER-Chile.
WHEN AND WHERE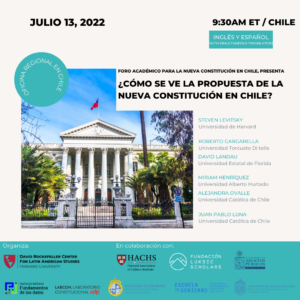 In Collaboration with / En colaboración con:
Instituto de Asuntos Públicos, Universidad de Chile
Instituto Milenio Fundamentos de los Datos
Laboratorio Constitucional, Universidad Diego Portales
Facultad de Derecho, Pontificia Universidad Católica
Instituto de Ciencia Política, Facultad de Historia, Geografía y Ciencia Política, Pontificia Universidad Católica
Harvard Association of Chilean Students
Escuela de Gobierno, Pontificia Universidad Católica
Co-Sponsored by / Copatrocinado por:
Fundación Luksic Scholars