EDBT/ICDT 2023 Joint Conference
28/Mar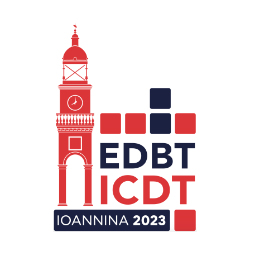 We are glad to announce that EDBT/ICDT will be back to an in-person conference! We look forward to welcoming the database community to Ioannina after 3 years of online EDBT/ICDT events. The conference will run in Hybrid mode, so that participants having travel restrictions will still have the opportunity to attend.
The EDBT series of conferences is an established and prestigious forum for the exchange of the latest research results in data management. Held in an attractive European location, the conference provides unique opportunities for database researchers, practitioners, developers, and users to explore new ideas, techniques, and tools, and to exchange experiences. The previous EDBT events were held in Venice, Vienna, Cambridge, Avignon, Valencia, Konstanz, Prague, Heraklion, Munich, Nantes, St Petersburg, Lausanne, Uppsala, Berlin, Genoa, Athens, Brussels, Bordeaux, Venice, Vienna, Lisbon, Copenhagen (virtual), Nicosia (virtual), and Edinburgh (virtual).
IMFD participants 
ICDT Session 1: Best paper awards & enumeration
[Session Chair: Liat Peterfreund]
Constant-delay enumeration for SLP-compressed documents
(Martín Muñoz and Cristian Riveros)
ICDT Session 3: Interesting measures
[Session Chair: Ahmet Kara]
Absolute Expressiveness of Subgraph-Based Centrality Measures
(Andreas Pieris and Jorge Salas)
On the foundations of data centrality: the trees case
(Cristian Riveros, Jorge Salas and Oskar Skibski)
ICDT Session 4: Graph queries
[Session Chair: Jef Wijsen]
Size bounds and algorithms for conjunctive regular path queries
(Tamara Cucumides, Juan L. Reutter and Domagoj Vrgoc)
EDBT/ICDT Keynote: Compact Data Structures Meet Databases (Gonzalo Navarro)
[Session Chair: Dan Olteanu]
Program: http://edbticdt2023.cs.uoi.gr/?contents=detailed_program.html
Web: http://edbticdt2023.cs.uoi.gr/?contents=program_overview.html