Destacada participación de investigadores del IMFD en la conferencia SPIRE'19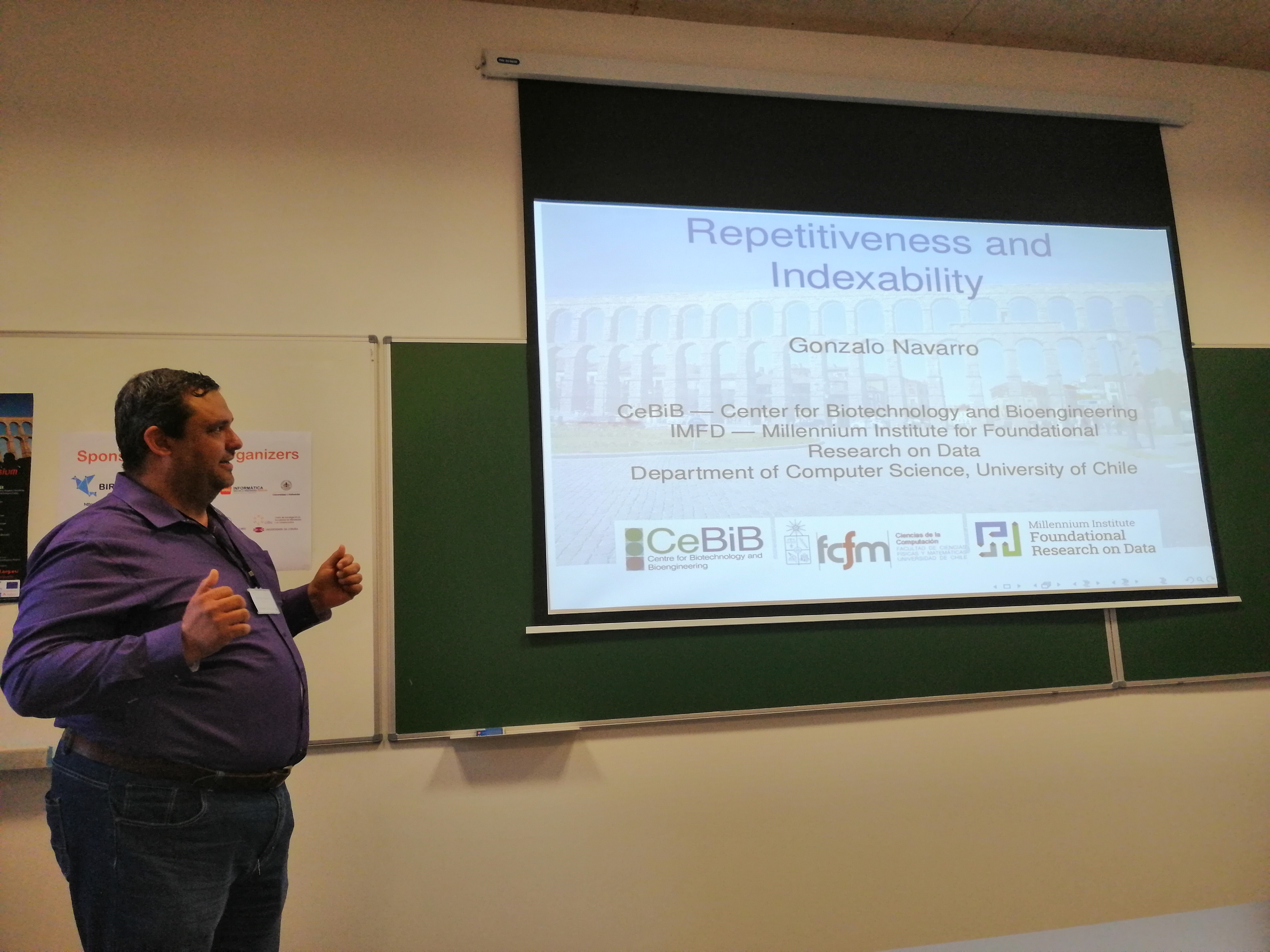 A comienzos de octubre, investigadores del Instituto Milenio Fundamentos de los Datos (IMFD) participaron en la conferencia International Symposium on String Processing and Information Retrieval (SPIRE'19), en Segovia, España.
Gonzalo Navarro, quien además es académico del Departamento de Ciencias de la Computación de la Universidad de Chile, asistió como "invited speaker". Su exposición se tituló "Repetitiveness and Indexability" -Repetitividad e Indexabilidad- y en ella revisó los principales resultados de compresión e indexación de colecciones de datos repetitivas, obtenidos en los últimos años.
Después de concluir la conferencia, el investigador dio una charla llamada "Una vida junto a la Computación", para los estudiantes de la Universidad de Valladolid, en Segovia. Gonzalo Navarro está entre los top 100 del mundo en computación teórica, según Microsoft Academic. Además, entre los 300 autores más prolíficos del mundo en computación, por el número de papers que ha publicado -sobre 400- y de acuerdo al ranking Guide2Research, es el número 571 en computación en el mundo.
Junto con Gonzalo Navarro, asistieron los investigadores Diego Arroyuelo, Diego Seco y Ricardo Baeza -fundador de la conferencia-, y el estudiante Manuel Cáceres.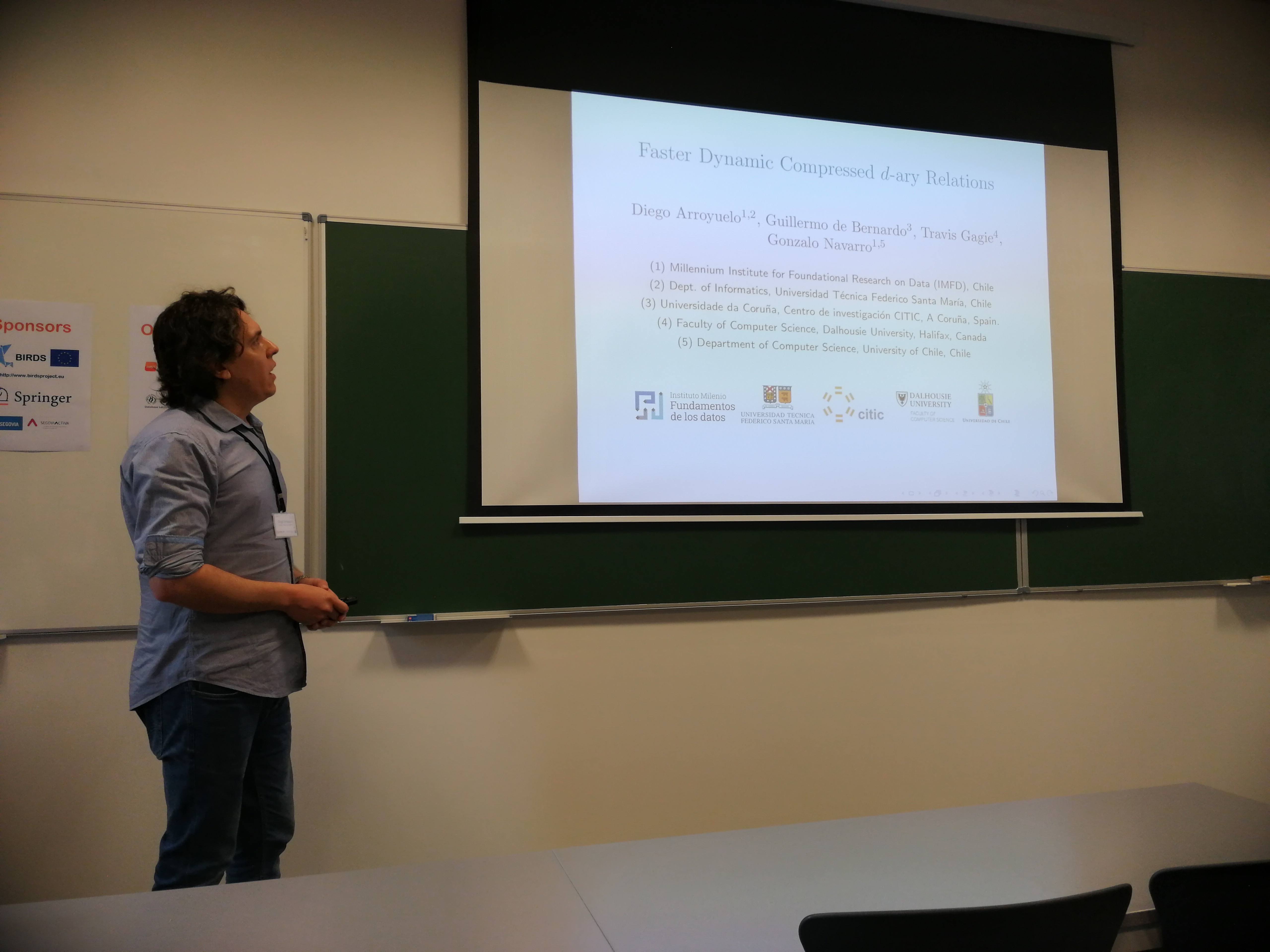 Además, se presentaron siete artículos con co-autores del IMFD, en temas de compresión de datos y estructuras de datos compactas:
Diego Arroyuelo, Guillermo De Bernardo, Travis Gagie y 

Gonzalo

Navarro

. Faster Dynamic Compressed d-ary Relations.
Manuel Cáceres y Gonzalo Navarro. Faster Repetition-Aware Compressed Suffix Trees based on Block Trees.
Diego Arroyuelo y Erick Sepúlveda. A Practical Alphabet-Partitioning Rank/Select Data Structure.
Diego Arroyuelo y Rajeev Raman. Adaptive Succinctness.
Dustin Cobas y Gonzalo Navarro. Fast, Small, and Simple Document Listing on Repetitive Text Collections.
Jose Fuentes, Gonzalo Navarro y Diego Seco. Implementing the Topological Model Succinctly
Travis Gagie, Tomohiro I., Giovanni Manzini, Gonzalo Navarro, Hiroshi Sakamoto y Yoshimasa Takabatake. Rpair: Scaling up RePair with Rsync.
En SPIRE'19 se presentaron siete artículos con co-autores del IMFD, en compresión de datos y estructuras de datos compactas.
More news
Annual
2023
2022
2021
2020
2019
2018
2017
2016
2015
Biannual
1st semester
2nd semester
Monthly
January
February
March
April
May
June
July
August
September
October
November
December