Chilean students receive bronze medals at the International Computer Olympiad in Japan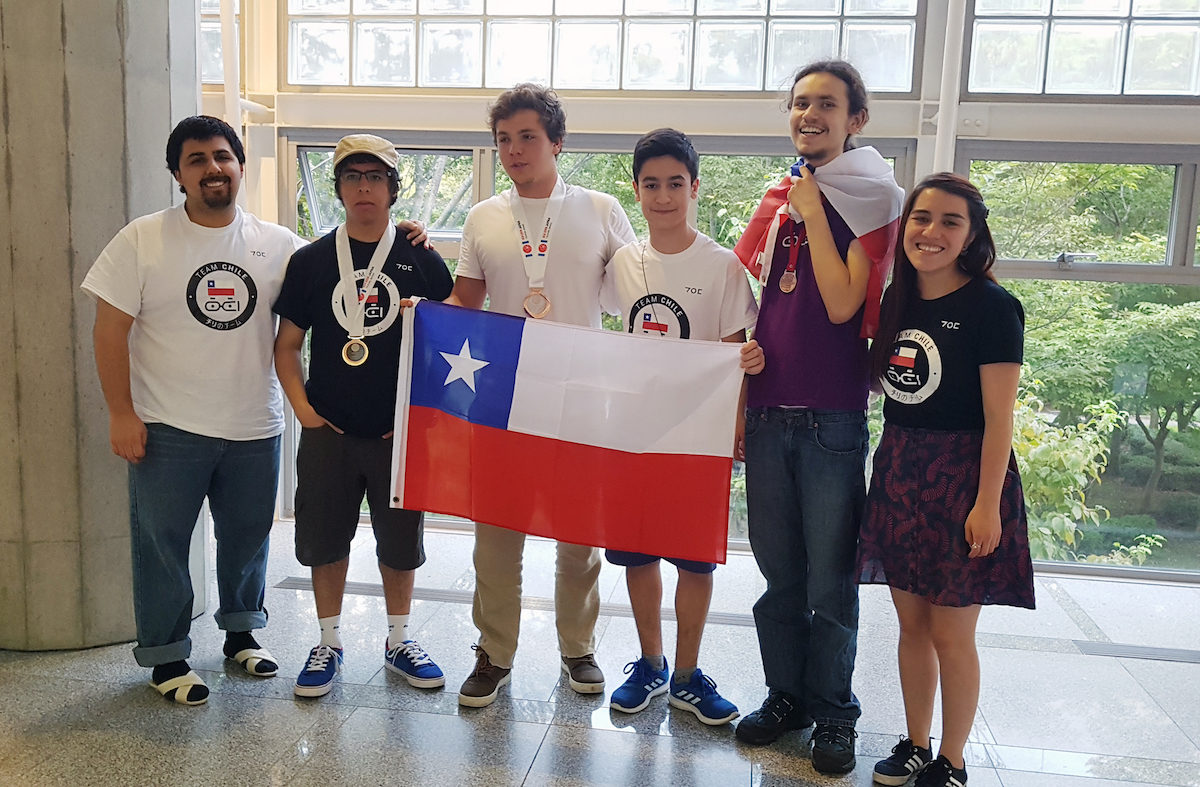 After two days of individual competition, two of the four students who traveled to Tsukuba, Japan, representing Chile at the International Computer Olympiad, won two bronze medals at this event, sponsored by Unesco, which they attended with the sponsorship of the Millennium Institute Fundamentals of Data.
The four representatives of the country – Willem Stuijt, Daniel Báez, Ignacio Muñoz and Luciano Massa, the latter from Concepción – participated in this international Olympiad, one of the most prestigious in its field, held from September 1 to 8. After two rounds of five-hour competitions, where they were presented with three problems to solve by programming, Stuijt and Báez managed to stand out and get a bronze medal each.
"This is the best performance we have had in this competition," explains Catherine Espinoza, Executive Director of the Chilean Informatics Olympiad, who accompanied the students in this interschool tournament. "For the first time we are among the most prominent of the Latin American countries and the acknowledgments we obtained are the same as countries such as Spain and the Netherlands, so we are very satisfied with the results," said the company's Research and Development engineer. Chilean TOC technology.
Hard work
Since 2013, the Chilean Computing Olympiad has been held in Chile, the latest version of which was made possible thanks to the contributions of the Fundamentals of Data Institute (former Research Center of the Semantic Web), the North American company IntroLogic and the Chilean programming community. Competitive, progcompCL.
For participation in this year's international competition, work began with 40 students from Arica to Temuco, explains Espinoza, of which "we selected the ten best, who participated in an intensive camp, instance of which the four students They traveled to Japan they won the opportunity to represent the country, "he explained.
For Jorge Pérez, associate researcher at the Fundamentals of Data Institute, the support for this initiative comes from the Institute's conviction that programming is a skill that children should incorporate into their training as a transversal tool: "Programming codes is the way in which all cell phone applications, video games, email, and search engines such as Google are generated. Unlike just using the computer, with programming we can create, from music and animations, to applications that can help medicine. "
For his part, Espinoza explains that the Corporation for the Promotion of Computer Science in Schools strives for the same ideal: "We consider these essential tools on a daily basis and can help in all areas of daily life and future professional life of schoolchildren. On the other hand, Chile is the country that consumes the most technology in Latin America, but we are just learning how to create it ", he concludes.
More news
Annual
2023
2022
2021
2020
2019
2018