June 2023 – Niñas Pro and the Millenium Institute Foundational Research on Data. are opening registrations for a new edition of Arduino Quest, in which participants can learn to program in Arduino and create a project with electronic components.
This is a completely free and online workshop, and those who participate and show perseverance throughout the course will have access to an Arduino board to learn programming and unleash their creativity. The workshop consists of three phases: theoretical classes, a simulation project, and finally, the creation of a real project with electronic components. These phases are sequential, meaning participants can move to the next phase upon successfully completing the previous one, ensuring a solid learning experience.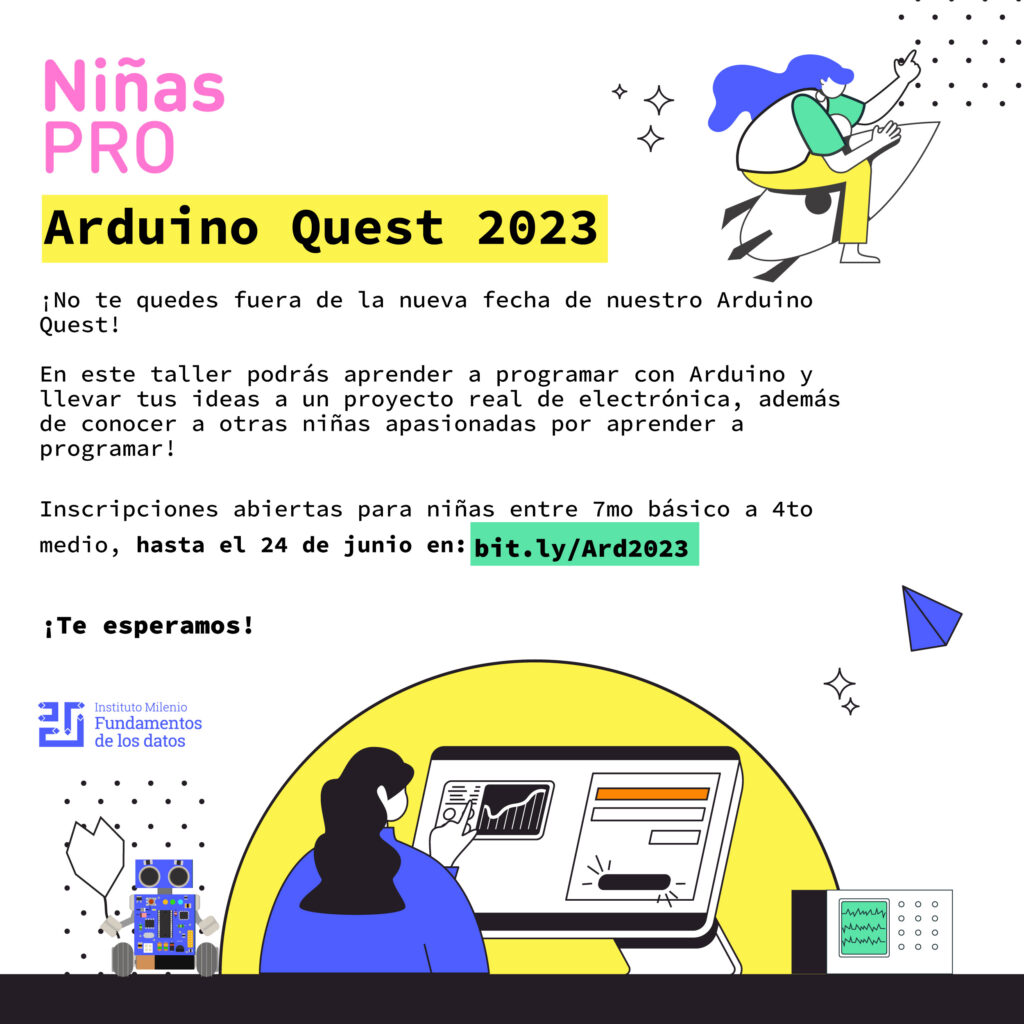 Arduinos are open-source electronic development boards, based on hardware and software that creators and developers can freely utilize. With Arduinos, one can bring technological application ideas to life, such as automation and robotics. You can view some of the projects from previous years here, and access the complete online course of the previous version here.
Niñas Pro started in 2016 as a university activity carried out by a group of female students from the Faculty of Physical and Mathematical Sciences at the University of Chile. Their aim is to increase girls' interest in programming and actively promote a gender stereotype-free experience of science and technology for all girls in Chile. Today, the organization is established as a nonprofit association and has a network of over 80 volunteers distributed across different regions of the country, with the support of various universities, companies, and organizations interested in narrowing the gender gap in STEM.
Arduino Quest and the collaboration between the Millenium Institute Foundational Research on Data. and Niñas Pro are part of the External Outreach Initiatives of the IMFD, funded by ANID. The IMFD actively participates in these initiatives to promote gender equality in STEM.
It is worth noting that in Chile, women account for only 7% of undergraduate STEM graduates. Furthermore, they represent 35% of research staff, and their salaries are up to 23% lower than those of men, according to the second version of the Gender Snapshot study by the Ministry of Science and Knowledge.
The spots for Arduino Quest 2023 are limited and open until June 24th. Selected students will be notified during the week of June 26th, and the workshop will take place from July 7th to July 28th.
For more information and registration, please visit this link.
The challenge is open to girls who already have programming knowledge, ranging from 7th grade to 12th grade.
More news
Annual
2023
2022
2021
2020
2019
2018
2017
2016
2015
Biannual
1st semester
2nd semester
Monthly
January
February
March
April
May
June
July
August
September
October
November
December