Chilean universities launch Vincula: the collaboration network between academia and Congress developed by Innovación IMFD.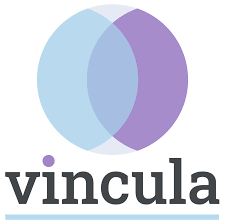 May 2023 – With the attendance of representatives from the Executive, Legislative, and academic worlds, the Vincula project held its official presentation on May 26th at the Main Campus of the Catholic University. The objective of this initiative is to strengthen legislative tasks through collaborative work, data intelligence, and improved access to scientific evidence.
The platform facilitates the connection between individuals from academia and congress members and their advisors, using a system developed by the Innovation Department of the Millenium Institute Foundational Research on Data. This web application applies natural language processing (NLP) techniques, leveraging information generated by both universities and the congress to establish links between relevant topics and academics who specialize in those areas. The goal is to make knowledge and scientific evidence readily available to those involved in creating legislation in our country.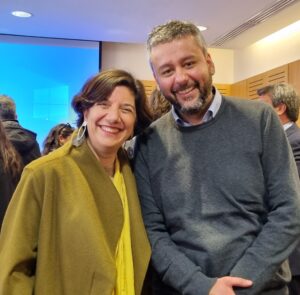 Aisén Etcheverry and Marcelo Mendoza
"With this, we are fulfilling one of the objectives we have had since the creation of our institute: to use the knowledge we generate to contribute to advancements that benefit society as a whole," states Marcelo Arenas, Director of the Millenium Institute Foundational Research on Data. Vincula is a pioneering and unique initiative in Latin America, but it collaborates with and learns from other entities internationally, such as Research Impact Canada, Universities Policy Engagement Network (United Kingdom), Advancing Research Impact in Society (United States), and Africa Research and Impact Network. These five initiatives are part of the Research Impact Network, with Vincula being the only representative at a Latin American level.
According to Francisca Reyes, manager of the Vincula platform and academic at the Institute for Sustainable Development of the Pontifical Catholic University of Chile, cross-institutional collaboration can be understood as a clock that, in order to function properly, requires many interconnected gears: "In this way, science is mobilized for the benefit of society."
"This is a first step in recognizing the importance of science, but also understanding that academics and researchers must contribute to the changes needed in society and public policies," stated Andrea Rodríguez Tastet, Vice-Rector of Research and Development at the University of Concepción, senior researcher at the Millenium Institute Foundational Research on Data, and co-director of Vincula, during the presentation.
Photography: Karina Fuenzalida
During the panel discussion following the platform presentation, Pedro Bouchon, Vice-Rector for Research at UC, emphasized the importance for universities and academics to understand how the legislative process works and its timing. Otherwise, they might arrive too early or too late. Chile's Minister of Science, Technology, Knowledge, and Innovation, Aisén Etcheverry, highlighted the fact that the language and timing used by universities and politics often differ. "We must evaluate what kind of scientific knowledge will be required for designing public policies."
Photography: Karina Fuenzalida
"Sciences must be connected to people and institutions. Sometimes universities are too self-contained," said Deputy Helia Molina, who has worked as an academic at various universities, including UC and the University of Santiago.
Source: Noticias UC
More news
Annual
2023
2022
2021
2020
2019
2018
2017
2016
2015
Biannual
1st semester
2nd semester
Monthly
January
February
March
April
May
June
July
August
September
October
November
December